As gravel cycling (re- ?) catches on with an increasingly wider group of riders, you may be among those toying with the idea of bikepacking. The terminology around bikepacking is a bit confusing. Northwest in Motion is using the working definition that bikepacking requires: a bike, an overnight stay, and a bias for routes on dirt and gravel. In contrast to the overlapping adventure and bicycle touring genres, bikepacking emphasizes a lightweight, minimalist approach.
As an extension of our coverage of XWA 2019, I touched base with several gravel and bikepacking enthusiasts to get their perspectives on preparing and gearing up for bikepacking.
Ethan Washam was the least experienced of the XWA competitors we covered, and admitted he was in over his head. He wasn't completely unprepared, however. Prior to moving to Washington state from the Carolinas he dipped his toes into off-road riding when he attempted to ride the Palmetto Trail on a single speed. To physically and mentally prepare for XWA, Ethan had a formal training plan. Ethan's other big epiphany was that adventuring alone is a mistake for him; he advises it's better to bring a buddy.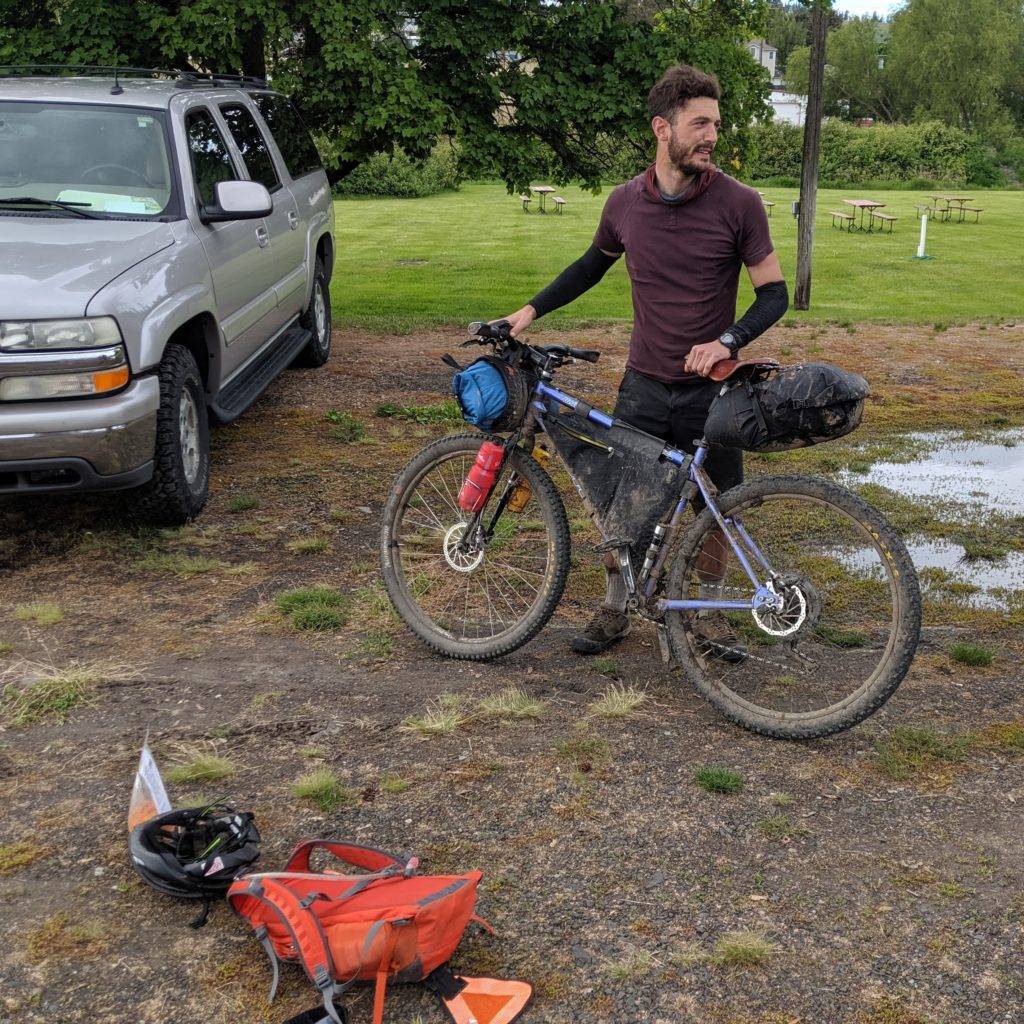 One of Ethan's main goals for XWA was to manage the 3 points of contact on the bike–hands, saddle, and feet–to minimize abrasion and injury. He used a Brooks saddle, and flat pedals with Five Ten Guide shoes. Unfortunately, Ethan says he suffered nerve damage in his hands because flat bars with ergonomic grips didn't work for him.
A takeaway lesson from Ethan might be to not try anything new for a big adventure or event. And, as far as managing the 3 contact points, a proper bike fit is essential. Consider getting a bike re-fit on an annual basis, or if you start to feel unusual pains. Our bodies constantly change shape, and a fit that works one season might not work the next.
"My tire choice was also a big factor. I used 2.5" Maxxis Aggressors which in my head I thought would provide good traction as well as some float in the bumpier sections. What I didn't realize was that they felt like molasses on pavement and sandy-gravel which happen to be all of Eastern Washington. It made the last 200 miles feel like a slog."
Thomas Baron is relatively new to cycling, but has a strong mountaineering background, so "camping with a bike" was an easy transition for him. Indeed, he uses some of the same gear.
Both Thomas and Ethan had the same verbatim recommendation: for starters, "use what you have."
"Some people get too hung up on following the advice of gear reviews rather than addressing their own actual needs."
Daniel Perry was a top finisher at XWA 2019, has competed at Dirty Kanza, and has been an Everesting activist the past few years.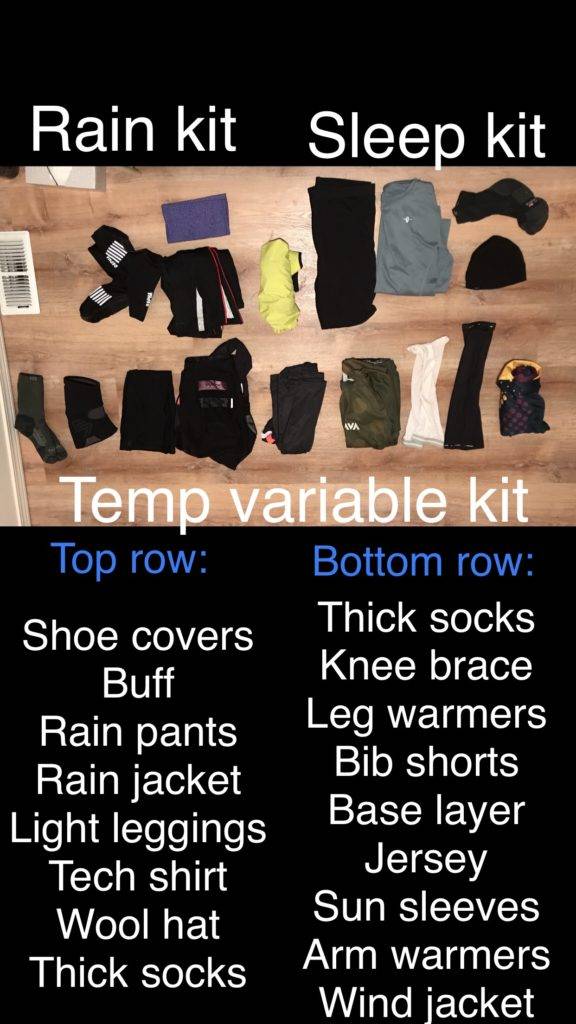 "Bikepacking assumes you will be self-sufficient and carry appropriate gear to camp outside by yourself without facilities. When packing for an overnight I think the lightest my bike (with water and food) has been was 40lbs. That changes everything about riding. Aerodynamics are basically out the window once there is a bag on the front of the bike and the weight makes climbing real slow. It takes so much extra effort to accelerate all that weight that you learn quickly to keep efforts low and deliberate. The amount of 'just in case' clothing, tools, repair kit, etc you bring goes up a lot compared to a single day ride. There is something hugely satisfying about this level of self-sufficiency once you get past the initial feelings of uncertainty."
Seattle's Thomas Sumter recently completed the first known "Gravel Circumnavigation of the Olympic Range" (aka the "GCOR.") The GCOR is a 450-mile loop with ~41,000' of climbing over a combination of paved and unpaved roads, some sections of Highway 101, the Olympic Discovery/Adventure Trail, and a couple other sections of single track.
For GCOR he wanted to travel as lightly as possible, be prepared for disaster, and was willing to carry a few "luxuries." Here was his gear list:
—Big Agnes Seedhouse UL1 tent
—MSR Whisperlight stove
—REI Igneo 17 sleeping bag
—Sea to Summit ultralight sleeping pad and pillow
—Garmin InReach Mini satellite communicator
–Waterproof outergloves and booties
–Rain jacket
–Puffy down jacket
—Petzel lightweight usb headlight
–Extra bib shorts and long fingered gloves
–Lightweight wool base layer for wearing around camp
–22k mA hours worth of battery
–Various smaller items (most of which proved quite handy)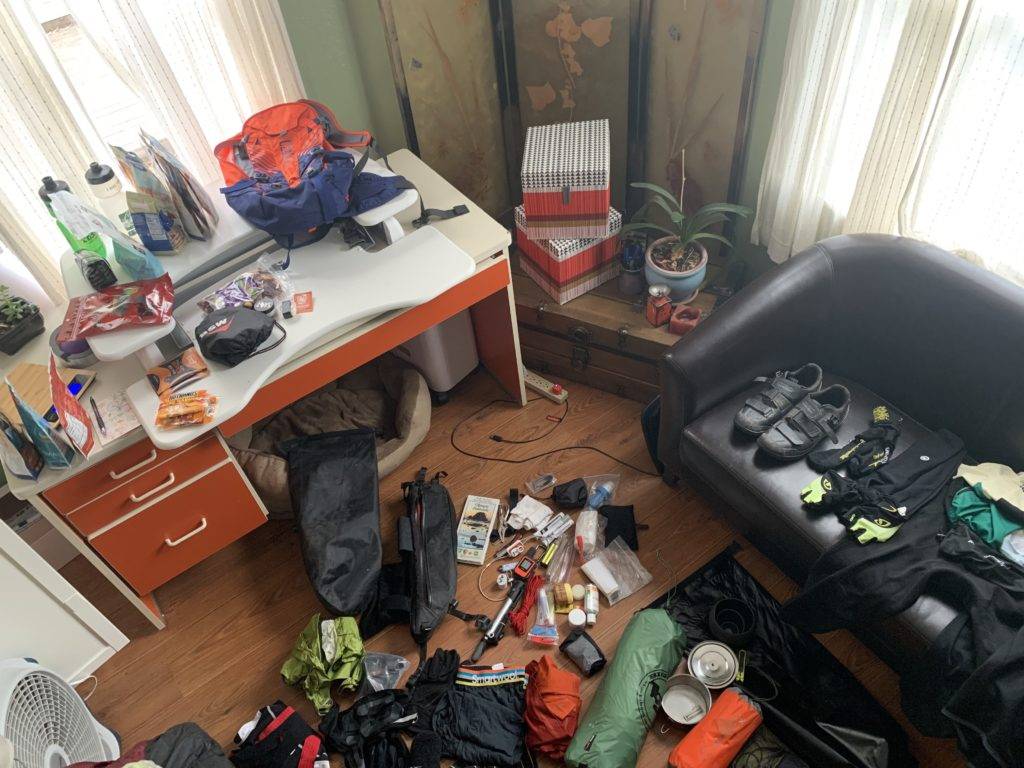 As you can see, if you are a backpacker, you probably already have most of these items: "I think it's basically like backpacking, just with different bags."
Thomas packs his gear into a Salsa Exp handlebar dry sac and Cradle, Revelate Terrapin seat bag, and a half frame bag. He carried his food in a Camelback KUDU 14.
Thomas rides an Original Gryphon, a rigid-specific drop-bar mountain bike with 32/48 chainrings and a 10-speed 11-36 cassette. "The best part of this bike is that I can fit 2.2" x 29 tires on it which really improves the handling on loose, rocky terrain. The Gryphon is a workhorse. It handles weight well, descends with confidence, and is great when conditions are sketchy."
"I feel strongly about are big tires and low gears. For all riding generally, but bike packing specifically, you should try to max those variables out on your bike. 40's are better than 35's, but 2.1 beats 40. Many frames will accommodate such volume in a tire on 650b."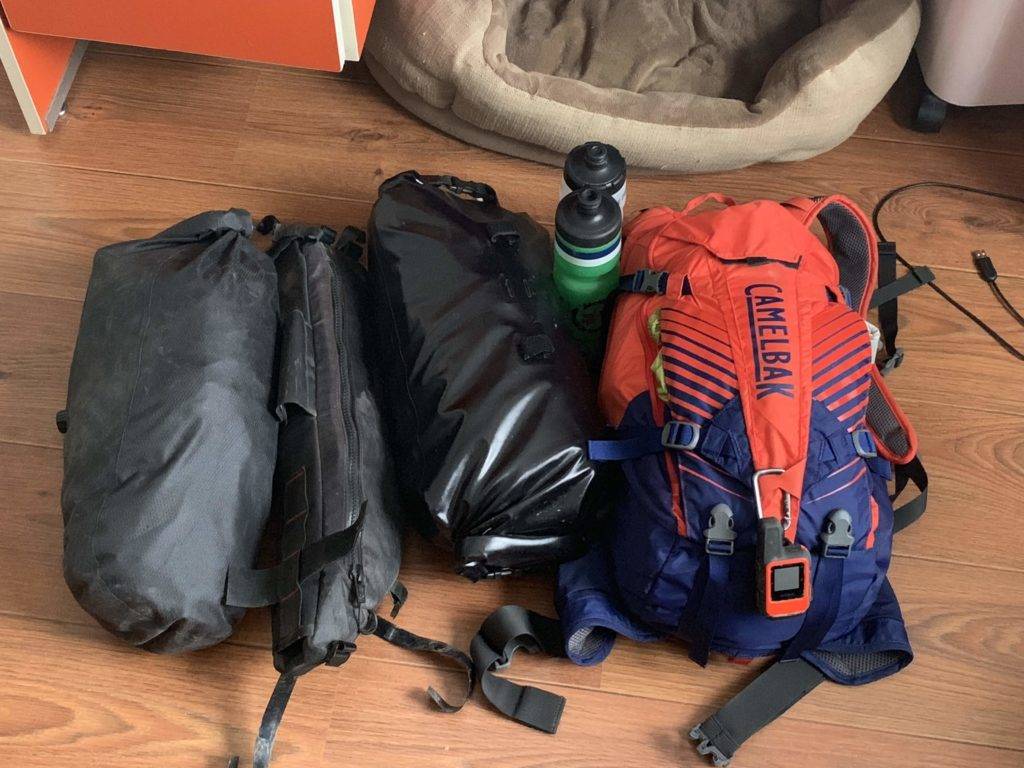 "I knew that I wanted to go with mountain bike style bags. They weigh less, and handle rough terrain better than panniers or rack/bag systems. I already had a Revelate 1/2 frame bag for gravel riding. I also looked at their Terrapin saddle bag which I liked because the dry bag was removable, compressible and waterproof. The removable part is very nice when you're on the trail. A couple of snaps and the receiver stays behind on the bike while the contents can be played out for camp. For the handlebar bag I went with Salsa's EXP Cradle and Drybag. I liked that the load was held away from the bars against a rigid surface. Sometimes getting a tent to fit between your shifters can be a challenge on a drop bar bike. I also use a top tube bag and/or a "grab bag." Some people swear by the grab-bag phenom, but I am unconvinced. They get in the way of my knees. I prefer the top tube bag for snacks. Lastly, I wore a Camelback KUDU 14L mountain bike backpack to carry food. I had hoped to not use a pack, but this was the only way I could carry all my food. I used the pack exclusively for food and and my stove, and kept it light."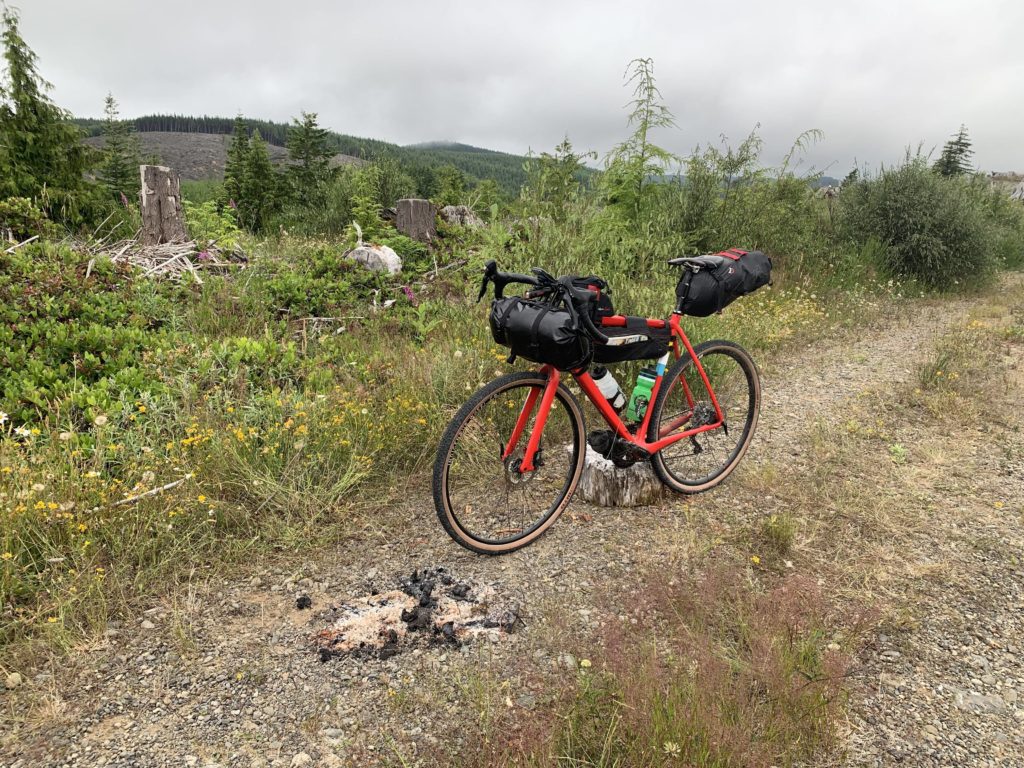 "I ended up keeping my shelter and sleeping pad in the handle bar bag; my sleeping bag, puffy jacket, and camp cloths in the saddle bag, small miscellaneous stuff in the frame bag; and food, stove, trash, and my rain gear in the backpack. Everything fit nicely and I had room to spare in each bag. I embraced wool for clothing, down for insulation, a Katadyn water filter, and backpacker meals for evening meals in-between civilization stops."
I asked Thomas about lessons he's learned about bikepacking gear.
"I made some early mistakes regarding weight distribution, and carrying excess gear on a few shorter rides. I learned that frameless saddle bags are kind of particular about how you fill the first 6 inches of space. I learned a down bag can compress very small in a compression sack, and I can my puffy to fit in the same sack. I also learned that keeping your devices charged requires a lot of consideration. During GCOR I had 2 10,000 mwh battery packs plus a little guy I planned to keep in case of emergency, yet I still had to charge every time I was near an electrical outlet. Not only did I just barely have enough juice for my journey, the batteries weighed over 0.5 kg making it the heaviest item in my pack after the tent. I am interested in alternative ways to recharge. Solar is out, but maybe someone will develop a hydro powered system that is lightweight enough for backpacking, or I might invest in a dynohub."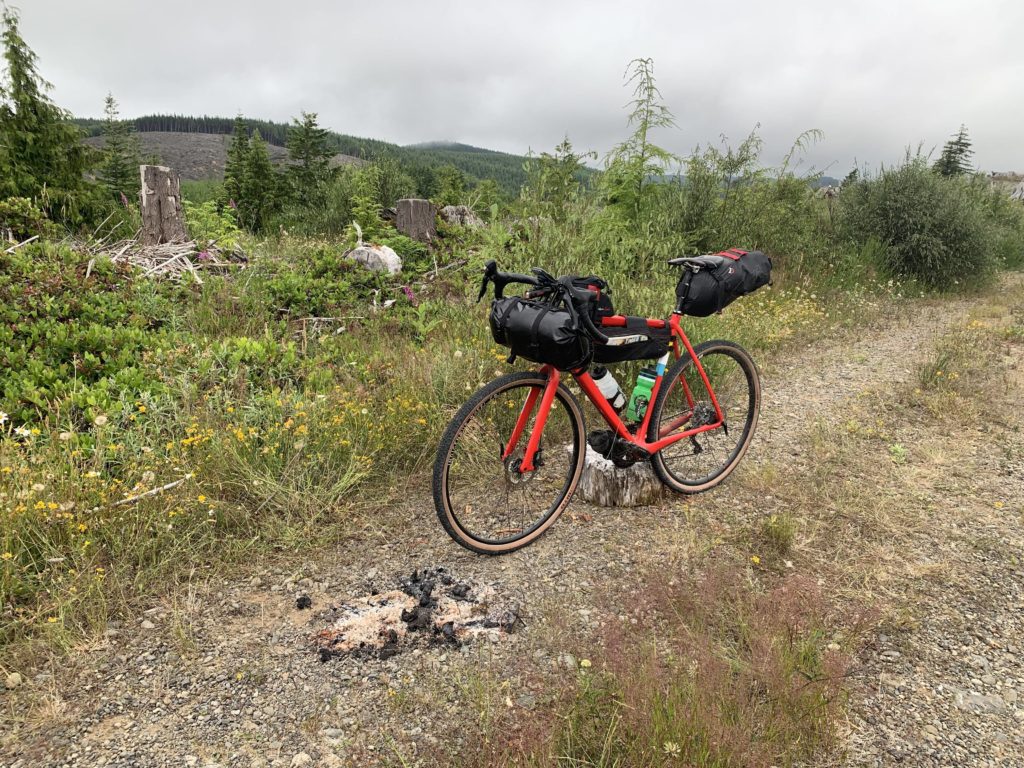 "I've experimented with my shelter. The first one-person shelter I tried was an REI Airdome Hammock. I really liked the hammock idea, and I found I slept very well in it. However, you need trees a certain distance apart to make it work. While a hammock means you don't a sleeping pad as you do with a tent, I've learned the hard way that hammocks need insulating quilts if it gets cool at night. Once you add a quilt the hammock is heavier than a tent and sleeping pad. It's always a trade off between flexibility, durability, weight, and comfort. For me, the tent is the most versatile shelter, and the most protective in bad weather. Mine weighs 3 1/2 lbs and fits between my shifters."
Overall, Thomas thinks people can make due with very little. "In many ways the 'rules' I made for myself regarding bike rides are just as true for the typical weekend group ride as for an overnight expedition. Bring an extra layer than you think you will need, and bring more food than you think you are going to need. If rain is in the forecast make sure you protect your hands and feet. I think a GPS tracker is a very smart idea too."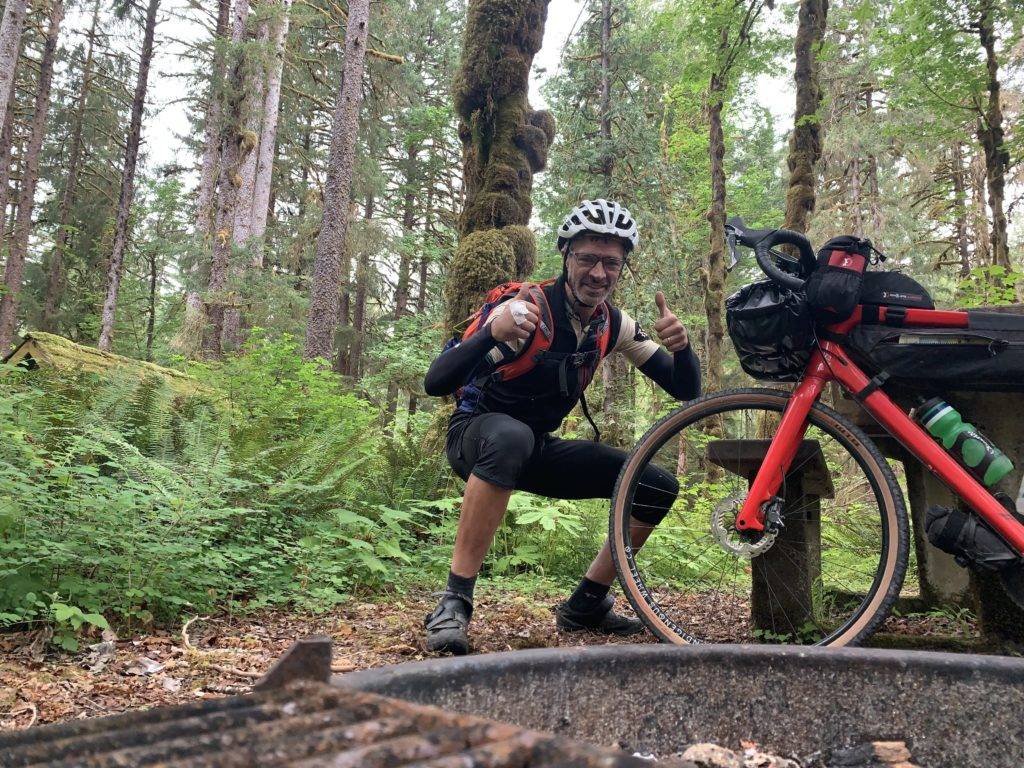 Thomas has a few must-haves:
Camp clothes: lightweight and long sleeved wool top and bottoms like Smartwool phD. "I want to get out of my kit as soon as I stop moving so I want something I can wear around camp and even sleep in so I don't funk up my bag as quickly. I discovered full body wipes are great when changing out of the kit. I also bring a puffy and a beanie."
Coffee: "I can't go without coffee, nor would I want to. Making coffee at camp is nice way to begin the day, but it is time consuming, and not a good enough reason on its own to pack a stove. However if your cooking some oatmeal at the same time… I am still looking for a packable and practical coffee filter. And, I always keep a sugary snack in my top tube bag to fuel my rides, usually Sour Patch Kids or sometimes gels."
Other Resources
Gearing up for a Bikepacking Epic
Mike McGuffin's 2020 Olympic Circumnavigation Packing List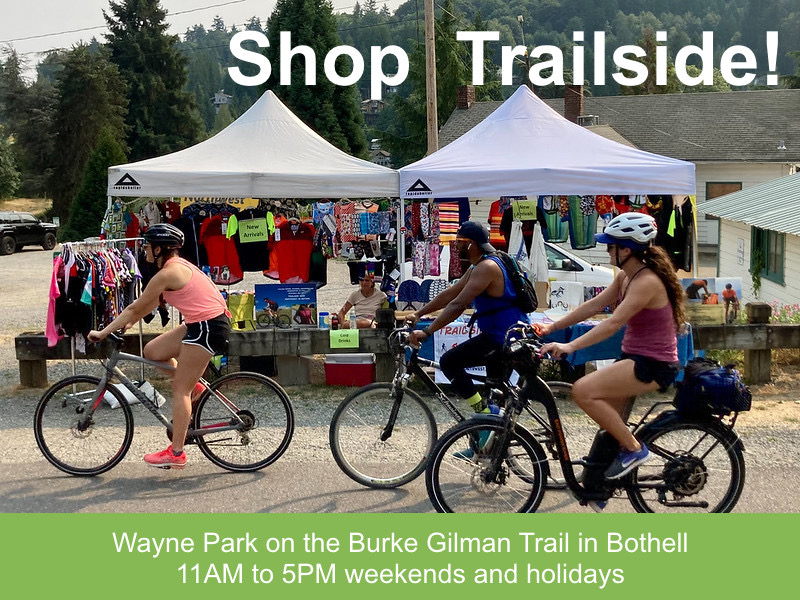 We source directly from small and family-owned businesses in Italy and Europe. This enables us to sell unique, high-quality fitness attire at reasonable prices. Get updates about the freshest additions to our inventory:
Subscribe
, or follow us on
Twitter
,
Facebook
, or
Instagram
.