Although pure speculation, based on the posts I'm seeing, women cyclists in the Northwest (and beyond?) have far greater enthusiasm for gravel riding than road riding. The rationale is simple: riding gravel feels safer than riding with automobiles. Add to that, within the bikepacking subdiscipline, women also seem to be strongly motivated to go on solo adventures.
Here are gear recommendations from two of the most active women bikepackers in the Northwest.
At the XWA 2019 bikepacking race Valerie Kato was the top women's finisher, and 7th overall. For observers watching the race flow on the Trackleaders website, Val was an inspiration. Val resides in Cashmere, which gives her easy access to the lonely gravel roads on the east side of Washington state where she experiments with different bikepacking gear and techniques. If the idea of bikepack racing appeals to you, Val advises working up to it.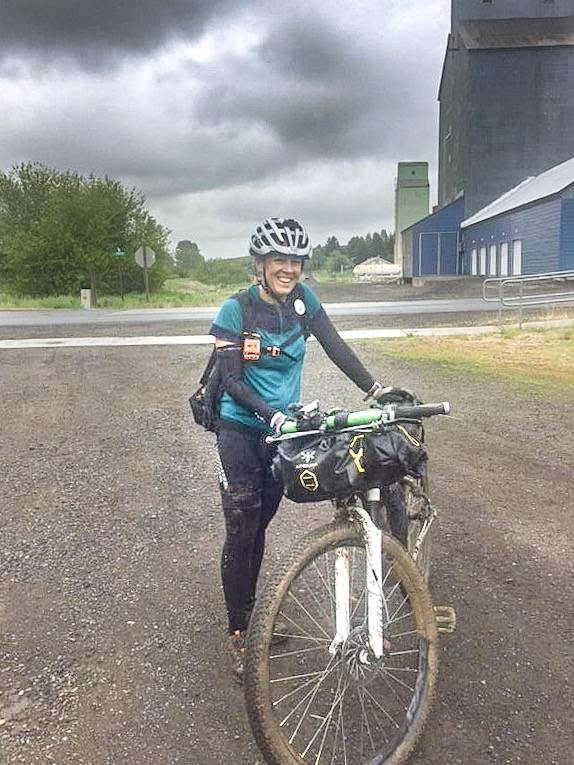 "If you want to get into bikepacking, racing is not the place to start. You should start out with a good touring kit. There are lots of online sites like bikepacking.com and bikepacking.net with suggestions. Basically, you need the stuff you would take backpacking, plus bike repair tools. It is important to find your own balance between comfort and weight. I have tried to pare down my kit to as light as it can be without being completely miserable for racing. My other tip is to get a comfortable bike. Bikepacking is not the time to get a race-fit for your bike, especially if you want to go for long days. That being said, the most important thing is to get out there and try it. Bikepacking is really just strapping your camping stuff to your bike and heading out to have fun."
Val's experimental approach to bikepacking gear has led to a few realizations that might save you some trial and error.
She tried to do one race without a sleeping pad, but sleeping directly on the ground was too cold. Instead of a sleeping bag she uses a bivy sack, fleece pants, and down booties. She rode XWA with flat pedals. Another essential is a Katadyn water filter.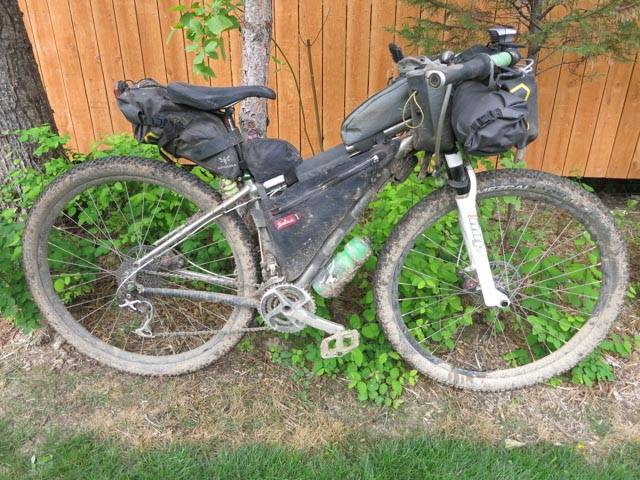 Val rides a Salsa Fargo. For XWA, she swapped the stock fork with a suspension fork.
Val gave this perspective as a woman cycling solo in remote areas.
"I'm a little careful. I don't wear clothes that are feminine. I always have bear spray because it works on people, too. I prefer not to camp in established campgrounds by myself. Instead, I camp away from people, off the road. I wear a SPOT tracker on my body. I keep a cell phone charged and easily accessible."
"Whether I am alone or with other people, the locals are almost always helpful and kind. When you ride into a small town, people may stare at you, but a loaded bike is a great way to start a conversation and learn about other people. If you are friendly, people will usually bend over backward to help you."
While Val was an inspiration at XWA 2019, in turn, she's also inspired by other women endurance athletes in the gravel and bikepacking scene.
"I think it is pretty amazing what women are doing in the endurance and gravel/bikepacking areas. Jamie Van Beek is an amazing NW rider, who is so fast and was the 2nd woman finisher in the 2019 DKXL (Dirty Kanza Extra Large 350-mile gravel race.) Alexandra Houchin has won Tour Divide the last two years. She learned to bike at age 20 and is very inspiring. Lindsay Shepard is also very inspirational. I think as more and more women become interested in long rides, you will see them winning a lot more races. For some reason women seem to have more endurance."
Indeed. German cancer researcher Fiona Kolbinger just won Transcontinental Race 2019. (2019 was the 7th edition of this 4,000km ultra-endurance self-supported bicycle race across Europe. FWIW, Seattle-area randonneur Doug Migden has completed it several times.)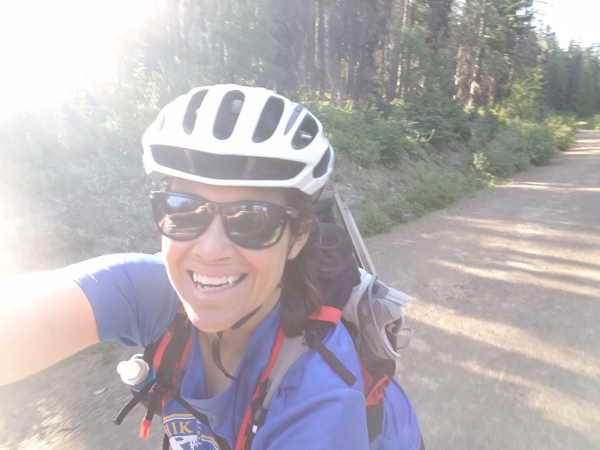 During the last decade or so, adverturess Jessica Kelley has been on a long multisport progression from triathlete to what I would call being a "mixed media" athlete. Her mostly solo projects combine foot travel, bike travel, and paddling. Jessica enjoys planning as much as doing her ambitious endeavors. And, as evidence of her enthusiasm for bikepacking, Jessica is working on a bikepacking book.
Jessica's gravel bike is a Specialized Diverge.
"It can be VERY difficult to find a handlebar roll bag that fits a small gravel bike. Every single handlebar bag I tried ended up hitting my front tire. Just not enough clearance. I ended up making my own using an ultralight drybag and simply bungeeing it to my handlebars. This worked quite well. The top tube bag on the Diverge is a Revelate Designs Gas Tank."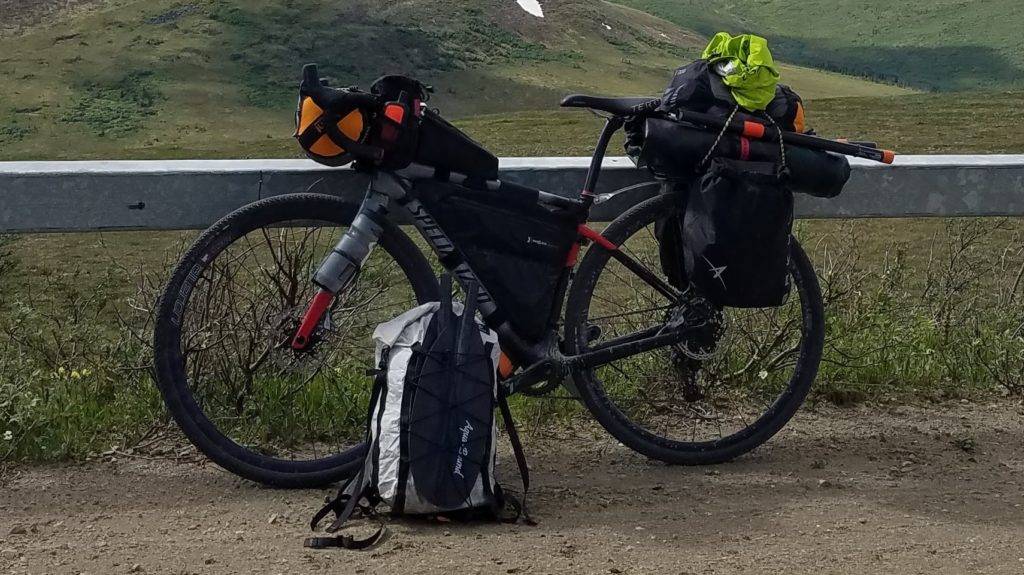 "It was also difficult to find a seat bag that didn't hit my rear tire. Revelate Designs makes a small one that fits, but then it was too small to actually carry everything I was packing for AK. Ultimately I decided to go with a very light rear rack set up. To my delight, one of the lightest racks on the market (as of last year) was a ~$30 Planet Bike rack at REI. I combined that with Arkel bags from the UK – they are fully waterproof yet still lightweight and worked wonderfully. I thought having a rack in general would be too cumbersome, but for relatively non-technical gravel riding it was great and didn't impact handling at all. Probably partly because I kept the set up so light."
"Revelate Designs' Ripio frame bag fit my Specialized Diverge perfectly. No need for a custom frame bag."
"The rack is what made it possible for me to carry an inflatable boat for my bikerafting adventure on the Yukon. I'm honestly not sure how I would've fit the boat otherwise, considering how limited I was for clearance on the front and rear tires. I strapped the boat and the paddle shaft to my rack. I carried my PFD and my paddle blades in a small Hyperlite Mountain Gear Summit Pack. The Summit Pack was awesome because it was so light, it didn't add to the weight on my back at all. In addition, it's highly water-resistant and although HMG is careful to claim it's "not a dry bag," I used it as an on-deck dry bag when paddling. It kept all my gear safe and dry for 160 miles on the Yukon. I wouldn't want to fully submerge it, but for flatwater it was perfect."
"For the cockpit, I love Revelate Designs' feedbags. The design is simple and elegant, they are big enough to easily hold a camera or a water bottle, but have enough pockets and dividers to hold a bunch of little stuff as well. I use mine to hold bear spray, my Garmin inReach, sunscreen, bug spray, chapstick, and my camera. I put most of my food in the bag on my top tube."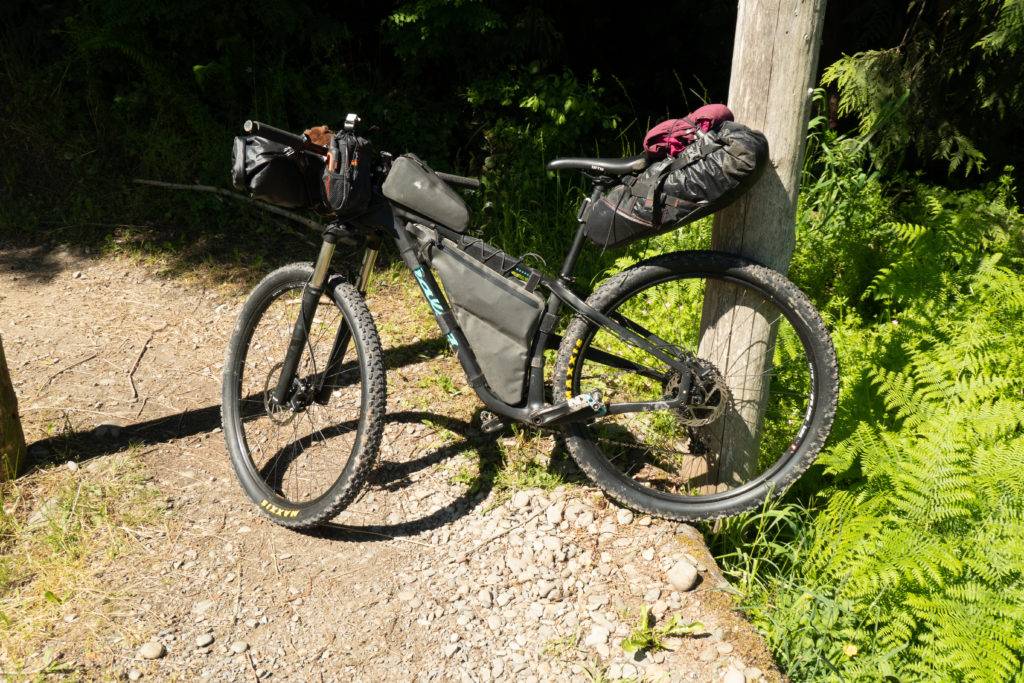 In addition to the Specialized Diverge Jessica says she is currently riding a Salsa Woodsmoke hardtail 29er most of the time these days.
"The Woodsmoke is specifically designed for bikepacking and I'm thrilled with how much room there is for bags on this frame! In addition, Salsa has manufactured bags that are specifically intended to bolt on to their bikes. I use a Salsa EXP series HT frame pack and a Salsa EXP series toptube bag. I prefer these over velcro. Very sturdy! If you don't have a Salsa frame, you can still use their bags–they provide straps as well."
"To keep everything accessible on the Woodsmoke I have two Revelate Designs feedbags and one top-tube bag in the cockpit. The seat bag is a Revelate Designs Pika (discontinued), and the handlebar bag is a Revelate Designs Sweet Roll. This is just big enough to contain my overnight gear but still gives me plenty of clearance on the front tire, even over bigger drops with my suspension is unlocked."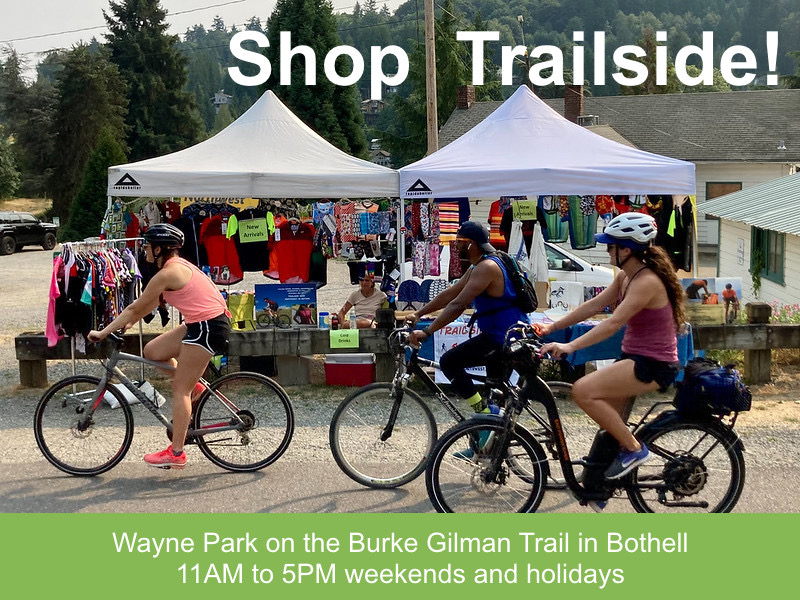 We source directly from small and family-owned businesses in Italy and Europe. This enables us to sell unique, high-quality fitness attire at reasonable prices. Get updates about the freshest additions to our inventory:
Subscribe
, or follow us on
Twitter
,
Facebook
, or
Instagram
.